by D. Milfred Dungbeetle on Mar.22, 2016, under D.Milly Dungbeetle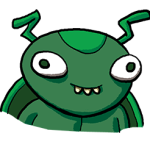 Hello Again,
It is lovely to be back writing again.  You see, we dung beetles have a bit of a crisis on our hands that has kept me extremely busy.  As most of you know, this is an election year in the US, but what you may not know is how incredibly dangerous that is for the dung beetle.  This particular election year is the worst on record.
You are probably asking yourself; "Well, why on earth is it bad for the dung beetle?"  Let me take a moment to explain…  Dung Beetle's exist to clean what most do not even want to acknowledge.  Some think it a disgusting job, but I have heard it said that without the Dung Beetle the Serengeti would be uninhabitable in a year.  Now, I cannot confirm that, but it does give a quick mental image of how much work we do.  This year, well actually starting last year, we dispatched an extra billion of our workers to the US.  The problem is that the candidates are spewing Beetle Snacks at a rate that is literally killing us.  We Are Drowning!  Seriously, our billions cannot take the output of the "funtastic four."
"Well!  D. Milly I am offended!  My candidate…"  Let me stop you right there.  Let's look at it, shall we?
What kind of a lunatic does someone have to be to WANT to be President of the US?  It is the WORST job in the world and you are guaranteed to NEVER, EVER have more than 50% of the people happy with you.  So this leaves lunatics, power hungry, or totally delusional folks being the only ones that run.
The minute ANY candidate says "I am going to…" you know they are lying.  There is an entire system of government in place specifically so no one person has that kind of control.
The two front runners on the Republican side are, well, a very interesting person who has no business EVER being in the president's office, and a man that sits under a pastor that calls for the death penalty for gays.  Before he dropped out, another was make penis size references about his opponent.  Really, are you 12??
The Dems, no better really… One can't be bothered to even use government email to send state secrets so no telling what else will be "too much trouble," the other thinks its okay to take away from some and give it to others just because the others don't have as much.  There is way more to that issue than "spreading the wealth."
Now, these are single incidents and/or viewpoints, but let's face it; The snacks are flowing at an unsustainable rate.  We dung beetles are doing our very best to stem the tide, but oh my good golly we are fighting a losing battle.  Unless we can get these folks to shut up, I fear the worst.  Honestly, is this the best we have?  If so, maybe its time we gave up.  I however, AM NOT READY TO DO THAT!
So, I am starting a Snacks pile movement to end the insanity.  I am having some T-shirts and stickers printed in case you want to show your support (of the movement, not of me).  I don't have a resale company so contact me at (d.milly at bentscrew.com) if you are interested.  I will probably do a "Print your own" 8-1/2X11 poster, and make it available for download, sometime soon.
So, until next time, keep swimming upstream.
Leave a Comment
more...